Tesla Model 3 to go into production in 2017 -CEO Musk
---
HAWTHORNE, California (Reuters) – Tesla Motors <TSLA.O> gave a sneak preview Thursday of its $35,000 (24,418 pounds) electric car that is critical to the Silicon Valley auto maker's growth plans and soaring stock value.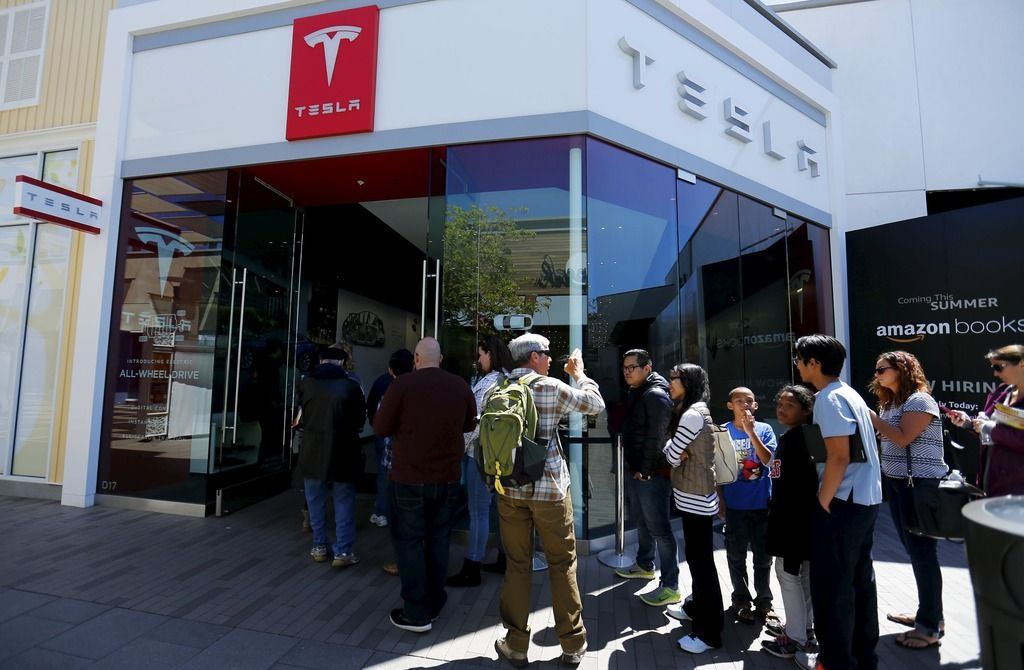 Chief Executive Elon Musk said the model 3, with a minimum range of 215 miles per charge, would go into production in 2017.
Musk said 115,000 pre-orders had already been taken for the car.
Tesla Motors' outspoken billionaire futurist CEO, Elon Musk, presented live to a small crowd of invited guests in Hawthorne, California, Thursday evening a working prototype of his company's more-affordable Model 3 electric sedan. Other than its sleek look and the green label, the Model 3 purportedly goes from 0 to 60 miles an hour in under 6 seconds and has a range of 215 miles for every charge of the battery.
"At Tesla, we don't make slow cars," the billionaire told the cheering crowd. The launch was also broadcast live online to millions around the world.
Complete with Tesla's Autopilot feature, Musk said the car can seat five people comfortably, and the interiors look spacious enough from the images as seen on the live feed. The dashboard looks right out of a science fiction movie, with a large horizontally aligned touchscreen — and little else. 
Even before anyone outside of Tesla's inner circle had seen the vehicle, thousands of Tesla loyalists queued up at dealerships as much as 48 hours before the event to plop down $1,000 pre-payments for a car that won't be ready for them until the end of 2017 for the earliest buyers. Online orders began as the event kicked off to a small crowd at the Southern California campus of Musk's satellite transport company, SpaceX.
(Reporting by Alexandria Sage, Editing by Clarence Fernandez)